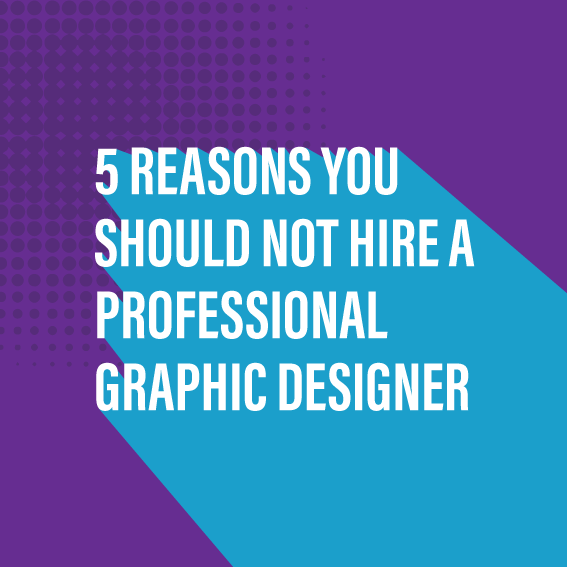 The internet is jam packed with helpful resources that you can use to create your own marketing materials, a lot of them free to use.
Why on earth would you want to invest in a professional graphic designer when you can do it all yourself? For free!
Here are 5 reasons you should not use a graphic designer for your business.
We all want to save money, and the best way to do that is to do everything yourself. It's not hard, websites these days even let you upload images directly and it doesn't need to be perfect. It just needs to be CHEAP!
Graphic designers take far too long. You don't want them messing around creating 'online media' for social platforms. All you need is a good old-fashioned flyer with your phone number on it and you want it FAST.
3. You don't care about brand consistency
All of those free fonts and images that you have access to may not match up with your previous marketing materials but they were free, so let's use them.
4. You don't need or want to stand out
If your competitor's marketing is poor, then there's no need for you to go spending money on design services to make your brand stand out and look professional. Stick with the rest of the crowd and blend in. Just grab one of those free templates from a stock website. Everyone else is using the same one so it must be good.
5. You don't take pride in your marketing
Marketing is just a means to an end. What does it matter if your business card is on cheap paper or your marketing brochure was printed and stapled together at home? As long as people know you're there, that's all that matters.
If you're just out for a fast buck and have no intention of creating value for customers, then the strategy above is most certainly for you.
However, if you want to give your customers the right impression and create long-lasting relationships with your audience, using the services of a professional graphic designer will help you go a long way to achieving that.
It can be useful to do some research before speaking with a graphic designer. By doing so, you will ensure that you are and able to communicate your ideas, aims and objectives more effectively, which is crucial when dealing with your designer, because they work from the information that you supply; the better the supplied information, the better the outcome.
The following links will get you off to a good start:
• How many logo revisions will I need?
• What is brand tone of voice?
• What is a logo? (VIDEO)
• The 5 basic types of logo (VIDEO)
• What colour should my logo be? (VIDEO)