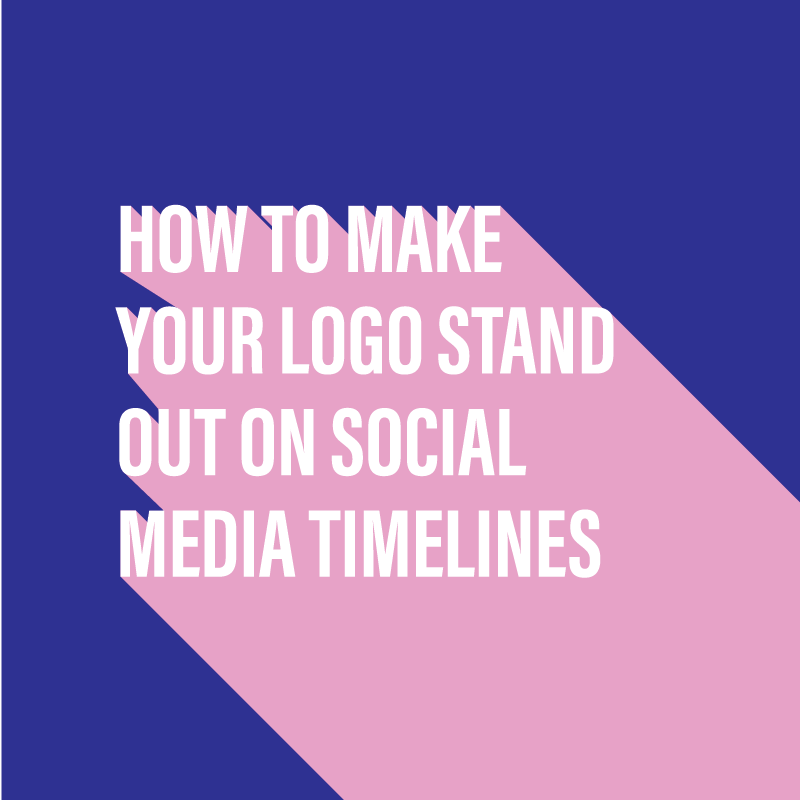 Many people have problems with their logo in terms of its legibility on social media platforms at small sizes. As a professional logo designer, I take into account all possible scenarios when creating logos for my clients, and I'd like to help you too.
In this blog, we will be looking at the legibility of your logo at very small sizes and how you can make sure your branding is clear, legible and stands out in the timelines of social media platforms. I will be focussing on profile pictures for Facebook but this will also translate across to many other social media platforms such as Twitter, Google+ etc.
Some of today's logo designs can be multi-layered, multi-textured complex entities that interweave beautiful fonts with wondrous illustration.
The problem is, 99.9% of them look absolutely crap when reduced down to 32x32 or 16x16 pixels on your social feed. What you get is a fuzzy, illegible block that looks like you have taped some grease proof paper to your corneas.
Yes, your logo looks beautiful on your stationery, on that window poster and on the side of your delivery trucks, but at 32 pixels you have a massive FAIL!
In this image below from the Pixels Ink Facebook page, the Pixels Ink logo works well in both the large profile image view and also in the timeline view. I'm not worried about the words 'pixels ink' being legible in the small version because utilising just the 'pi' is already part of my brand strategy.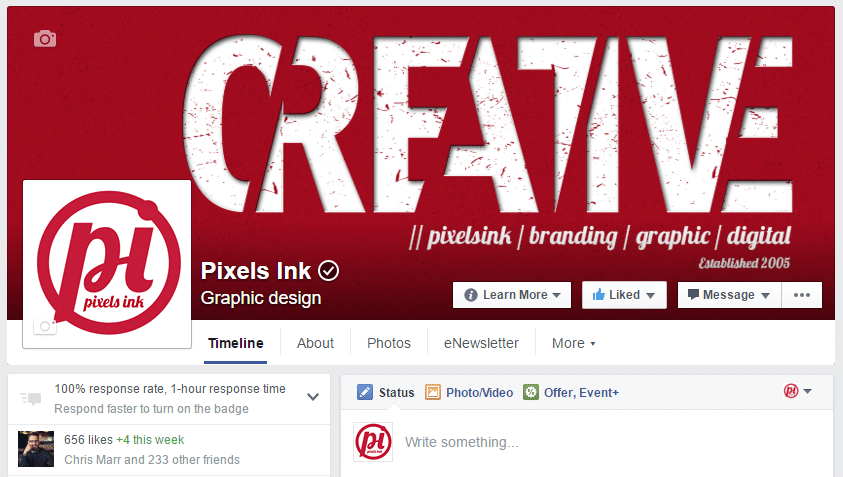 Well, there are two options we could use:
1) The first is that you bin your current logo and have something created that is more adaptable. I can hear the tears fall from your eyes as you think about the money you have already spent on your logo (that doesn't work properly!). Thankfully, there is another option, option 2.........cue sighs of relief and dry eyes.
2) Option 2 is this, and the one I use when using the full logo as a profile picture is not an option. You stick with your current logo design but use an element of it that can be used in isolation for constrained areas, such as avatars or profile picture boxes. In a lot of cases that small avatar will be seen by thousands more eyeballs than any printed version and it can often, through natural progression, overtake the 'complex logo' as the main identity to be used for your brand.
Here is what I did for my client, Fin & Co.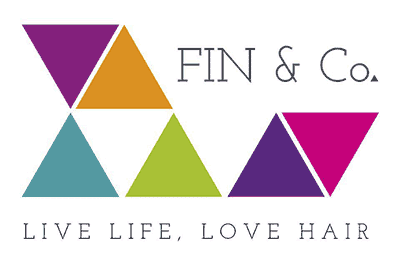 I created this logo as part of a whole re-branding exercise for Fin & Co, and as I mentioned earlier, I always take into consideration how a logo will look at very small and very large display sizes. With the Fin & Co logo, I knew that it would not be possible to use the whole design in situations where the logo was tiny.
Let's take the whole logo and use it as a profile picture for Facebook and see what it looks like: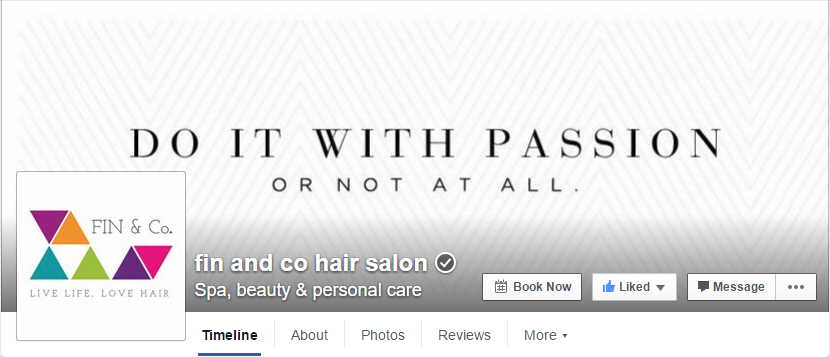 It all looks pretty legible here doesn't it, so what's the problem with using that as our profile picture on Facebook?
Well, the problems come when we see the profile picture in the timeline or news feed where it is displayed at a much smaller size:

Not so clear now, is it. yes, we can still make out the triangles of the main logo but the text is no longer legible. the logo is also not really suited to being inside a square container.
The solution to this is to take an element from the logo and use that as a high impact image that will stand out in the timeline view. In doing this, we then remove the full logo from view and so it is important that we keep this on display by always utilising it in the main cover image. It does not have to be very large, but it should be on display.
This is how it looks with the changes implemented.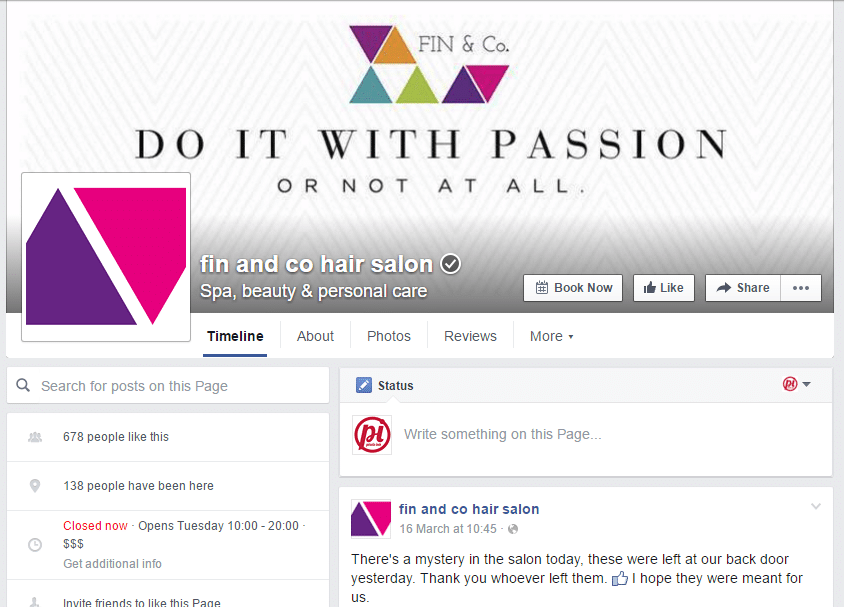 We can now see that in the timeline / news feed that the branding really stands out and is a strong presence. This is exactly what is required to catch a user's eye. As people's feeds get busier and busier we really need to be able to guide their eye to our content and a strong profile picture will do that.
Fin & Co also use those two isolated triangles in other areas of their brand materials such as their stationery and window graphics, and so, to their customers and social media followers this elemental approach to their brand logo will become more familiar to them as time passes.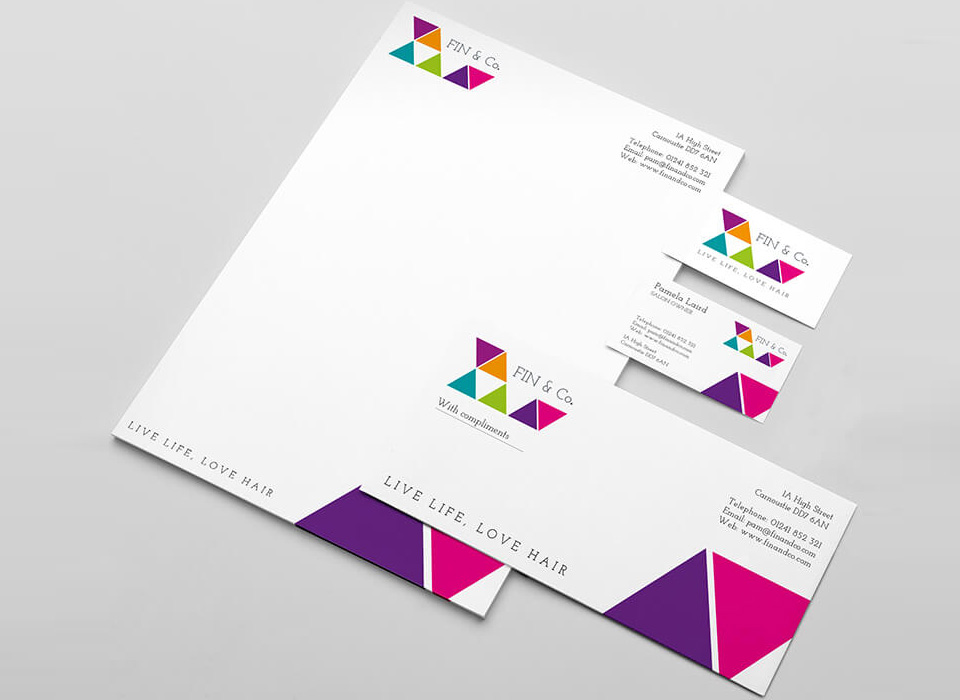 What to take away from this lesson.
When designing logos, always think outside the (16 pixel) box!
When you are sitting with your designer and are about to embark on designing a new logo or revamping your current logo, think about EVERY possible place that your logo can be used and ask yourself, will it still work when it is 60 foot high or 16 pixels wide.
I've fallen into that hole myself in the past. You create an amazing looking logo design for your client and you are both super excited about it, but then you do some testing at small sizes and it needs to change. It is a gut wrenching feeling when you realise that weeks of blood sweat and tears may all be for nothing due to lack of flexibility with your logo design. For any logo to be successful, it has to be flexible and adaptable.
Even if you don't have a logo, but you are trying to build your personal brand, then use a good head shot. Those will also work well as your main profile image and as a friendly face in someone's news feed and timeline.

The digital world is here to stay, and with mobile devices, (including tiny smart watches) becoming the norm for social activity screen space will always be a premium and so you should always be thinking about how your logo design will look in that environment.

Stay Creative
Col