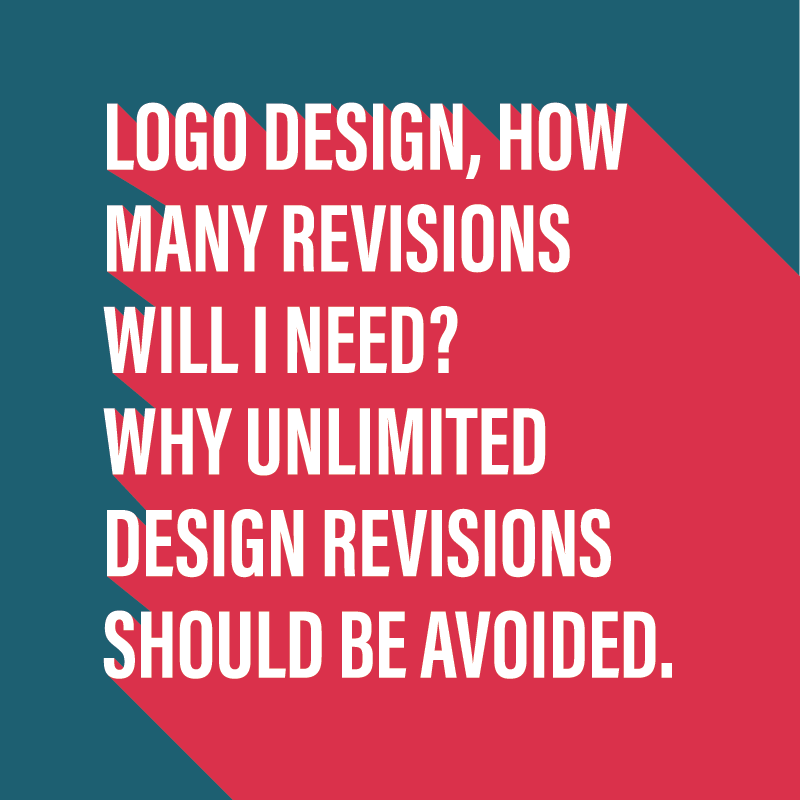 We have all seen 'unlimited revisions' listed in the services offered by graphic designers, usually proudly placed in some sort of banner or as the top 'benefit' of a logo design service. On the surface, this may look like a no brainer for the prospective client, I mean, everyone wants to be happy with their logo design before paying, right?

With 20+ years of commercial design experience in graphic and brand design, I can safely say that unlimited revisions are not something that any designer can offer and expect to still be in business.

The amount of of time and effort that would potentially be required just isn't economical. It is purely a method with which to entice the buyer into the sale and once that happens they are usually stuck with that designer until the bitter end, or if they do pull out half way through the project there will no doubt be a financial penalty.
I don't want you to fall into that trap.
Unlimited revisions = Unrealistic.
To me, as soon as a designer states that 'unlimited revisions' is one of the benefits of using them for logo design, I know instantly, that designer is not confident in their own skills and they are simply using the phrase to lure people in.

If, as a designer, I have to keep on revising my logo concepts for an infinite number of changes I clearly have no solid idea for what the end goal is for the logo. I'd also most likely go bust in no time at all due to the time it would take.
You need to trust in the expert.
Would you trust a brain surgeon that told you they will happily keep poking away until you're both happy with the end result? Of course not. You want them to be an expert that knows exactly what they are doing and can hone in on exactly what needs done.

The exact same can be said for an expert graphic designer, they will know what needs to be done and will advise you accordingly.
Any good designer will have spent a large part of the logo design process getting to know the client's business, industry and brand goals. This is vital research when starting any brand project and will give solid pointers to what the logo concept should be.

This is also why you should be very wary of cheap logo design, because if the fees are cheap, then you can bet your house they aren't doing any research, they will just bang out a few pretty (if you are lucky) designs and hope you go for one of them.

When I take on a logo design project I never say how many concepts or revisions I will do, because every project is different. It could be that I hit the nail on the head with my very first concept. That wouldn't be from pure blind luck though, it would be because I have listened to my client and I'd carried out the research legwork on them, their competitors, their target audience and their market area. Rarely do I need to produce any more than 2 or 3 concept designs.
By opening the door to unlimited revisions, your project risks running into an inordinate amount of tweaks and adaptations. This shows a clear lack of focus from the designer and is tiresome for the client.

The designer loses money and creative interest by the project running on and on, and the client loses sight of the projects purpose and can get dragged into an infinite loop of colour variations and font changes.

The client has approached the designer because they are in need of a professional; they are paying for professional advice as much as artistic skills. It is the designers job to lead and advise, not be a monkey pressing keys until hopefully a suitable logo pops out at the end.
When you encounter a designer that is offering unlimited revisions on any design service, call them out on it. Ask if unlimited truly means unlimited and that you would like to see 5,000 different colour and font combinations before you make your decision. You'd be doing them a favour, because really, 5,000 is a long way from unlimited.
Don't get caught out by this sales technique. Search for a designer that you can trust to do a good job. Look at reviews and ask for testimonials if necessary and you'll have a great client / designer experience on your project.