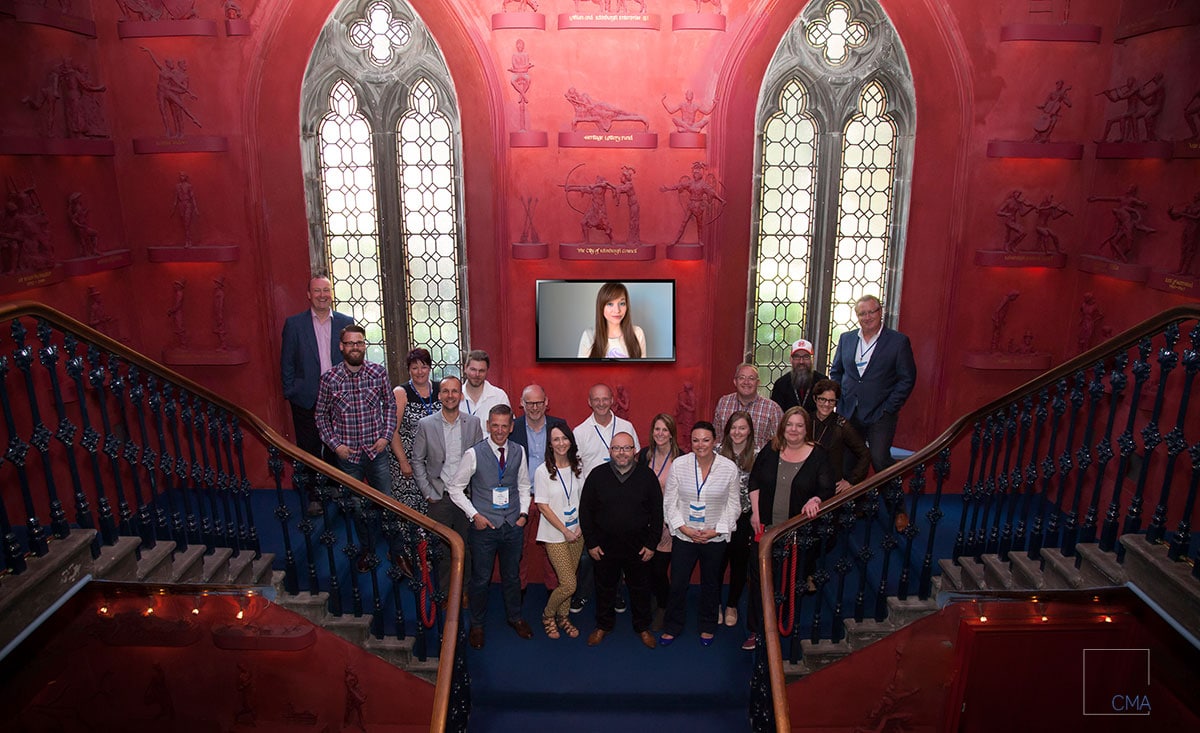 On Thursday, June 2nd, inside a converted old church in Edinburgh, I had the scariest 6 minutes and 40 seconds of my business career…………. And I LOVED IT!!!
Last September I attended The Content Marketing Academy conference (TCMA2015) and it changed my life and you can read about that experience here. Between then and now a huge amount has changed in my personal and business growth because of it and you can read about that here.
This blog is my review of TCMA2016 and how it managed to surpass all of my expectations.
The Lead Up
Back in November of 2015, 2 months after TCMA2015, I made the decision that I was going to support TCMA2016 by becoming a conference partner. I wanted to give something back to Chris Marr, the director of The Content Marketing Academy and conference organiser for the guidance and opportunities he had given me through content marketing.
It was shortly after this that Chris came up with the idea that as well as having keynote & main conference speakers he also wanted to introduce some lightning talks. These would take the form of 7-minute, fast paced talks consisting of 20 slides in the same vein as Pecha Kucha. The lightning talks would be given by some of the conference partners, and he asked me if I wanted to do one. Aye caramba!
This was a big, big thing and made me glad I didn't have weak muscle control or it could have got messy if you catch my drift. A very scary proposition. I knew instantly it would mean me having to stand on stage in front of a room of 100 – 200 people. I said yes on the spot.
Why did I do that if I was so scared? I had to! I'd been speaking to Chris about how frustrating it was that people were always questioning my pricing and that I felt they needed education on design to help them see the value that was there. I had started, slowly, to do this through blogging but Chris had suggested I look to start speaking at events too. When he asked me to speak, I bricked up the side of me that was shouting "DON'T DO IT!" and thought about my business coach, Laura Lucas and what she would say. It would be to JFDI (JUST F****** DO IT)!
So there it was, I was now on the speaker schedule. WOW!
The Night Before – A Surprise Visitor
As I was going to be speaking on the first day of the conference I wanted to head through to Edinburgh the day before so that I wouldn't have to travel too early on the day of the conference. With my best CMA buds – Cara, Nicola, Pam and her friend Lisa we rented a very cool apartment 2 minutes from the conference venue on Edinburgh's Royal Mile.
After we had unpacked our stuff I had checked Facebook and saw that Mark Schaefer had posted that he was outside the venue. Mark was the main keynote speaker at the upcoming conference and an amazing author. I posted a comment mentioning that we were only just down the road and that he should pop in. I never imagined that he would say yes, but he did! Cue some manic running around the apartment in excitement and panic as we had no food to offer but we did have prosecco and beer!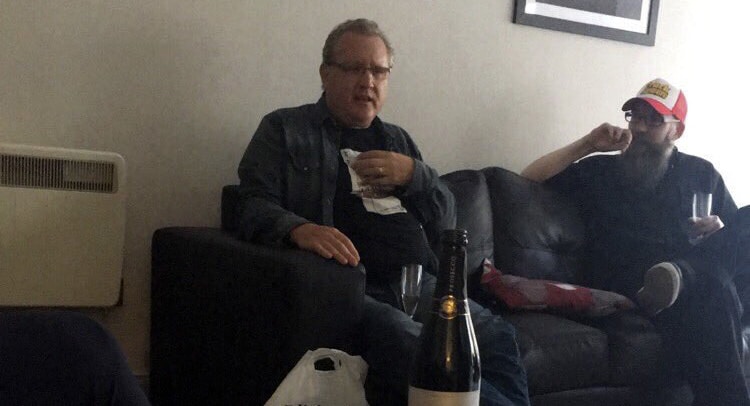 Mark came by and he regaled us with some great stories from his speaking career and offered me tips and advice for my own talk after I had mentioned how nervous I was. Mark is a really funny guy and it was so cool that he gave us some of his time.
Mark joined myself and my roomies to head on up to the conference venue so that we could help him get everything set up for the next day. Looking at the venue, you would think it was a Pixels Ink event. I'd provided conference bags as part of my partnership and it was a sea of Pixels Ink logos.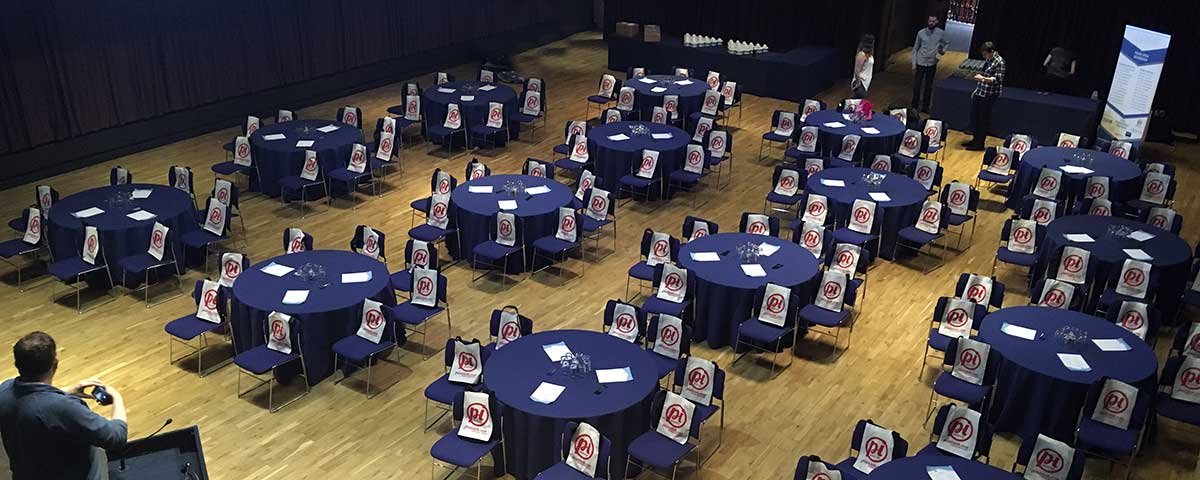 TCMA 2016 – Day 1
I got very little sleep through the night. I was incredibly nervous about my talk but Cara, Nicola, Pam & Lisa were the best cheerleaders ever and kept saying I would be great. It helped me so much.
I got to the venue and grabbed a seat. I was meeting someone there, Hayley, and she hadn't been before and didn't know anyone else that was attending. I wanted to make sure I could introduce her to as many people as I could as I knew a lot of people who were going to be there. This helped me to forget about my talk for a bit.
Speaker 1 – Amy Schmittauer
It hit 9:15 and Chris Marr opened up the conference and introduced us to our first keynote speaker – Amy Schmittauer.
Amy gave a fantastic keynote on the power of video and Youtube. She told us about her humble beginnings on the platform and lots, and lots of tips and advice on using video ourselves. For me, creating my own Youtube channel is top of my list for 2016 and so I took on every ounce of advice that Amy gave. Her talk was very polished and very well practiced. She also said, "Your first videos will be terrible!". This was actually a big help to me, as I am a bit of a perfectionist, so it hit home that rather than try to be perfection, it was more important to just start getting video content out there.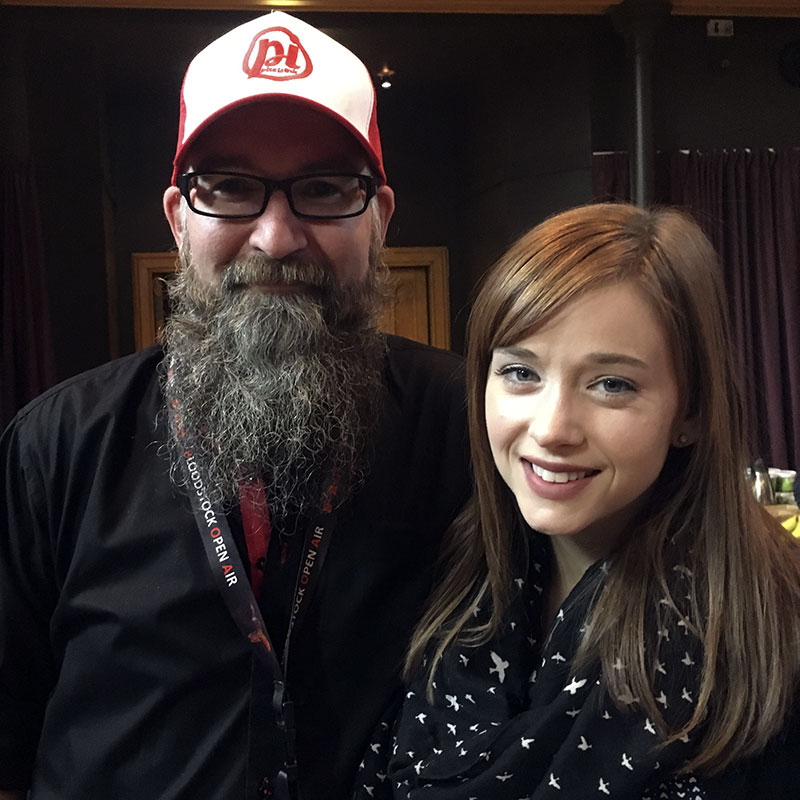 Speaker 2 – Col Gray………….. ME!
It was 10am when Amy finished her talk and I was scheduled to go on at 10:25. I was focussed on that time, like an impending ticking time bomb. So, you can imagine my surprise when Chris called my name and I was called to the stage 20 minutes earlier than anticipated!
I actually didn't do my talk from the stage. I walked in and around the audience whilst giving my lightning talk. I had attended a masterclass workshop with Marcus Sheridan a few weeks before and this was one of the things that he liked to do. I felt that it would suit me, well, I hoped it would suit me.
My talk was about brand tone of voice (link to previous blog article here)
I'd like to tell you how the talk went, but I honestly can't remember much of it. It was a complete blur. I got some amazingly positive feedback from delegates and the other speakers at the conference. There should be some video of my talk emerging soon, and I will be sure to put the link to it on all of my social media channels, and insert a link here when it appears.
I was absolutely buzzing after I had finished. The night before, Mark Schaefer had said to me – "Col, when you finish, you will have this feeling. Bottle it, keep it and when you have future talks, open up that bottle and remember how you felt after your first talk". I didn't really know what he meant when he said that to me, some 12 hours earlier, but at this moment in time, it became absolutely clear why he said it. I felt on top of the world.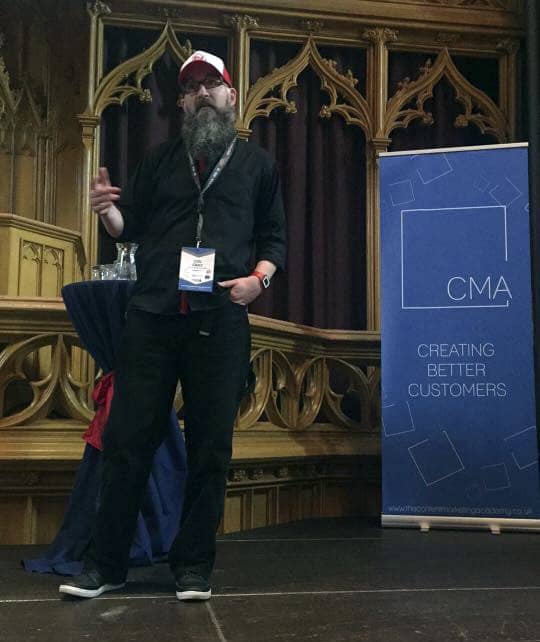 Speaker 3 – Amy's back
Amy was back on stage, but this time giving us a workshop on video creation. It was awesome.
LUNCH
Time to refuel and do some networking. Chris really encouraged everyone to go and speak to new people which I think everyone did. I met some great folk and everyone was very kind with their feedback on my talk from earlier in the day.
Speaker 4 – Caroline McKenna
Caroline was sitting next to me at my table and was incredibly nervous. Yeah, well it didn't show at all. Caroline owned that stage and was a complete natural. I loved her talk on building trust in the Non-profit sector and took away some key things I could translate into my own business.
Speaker 5 – Kate McQuillan
I met Kate at TCMA2015 and couldn't wait to hear her speak. Kate is a star student of Marcus Sheridan and has built up a hugely successful pet sitting business in Ireland through the power of blogging.
Kate's talk was absolutely inspiring and motivational and her advice for making your blogs better in both form and ranking was invaluable. I think I wrote down everything she said. My notes read like a transcript!
Speaker 6 – Richard Tubb
I loved Richard's talk. There was much talk of a cheeky Nandos (Buzzfeed link here) and how to run a more effective and efficient business. Richard runs a tight ship utilising outsourced experts to carry out the areas of his business that are not his specialty. By doing this, it frees Richard up to do the things he needs to and gives him the time to take up opportunities as and when they appear. I will definitely be implementing those ideas at Pixels Ink.
Speaker 7 – Julie Christie
This was the next lightning talk. Unfortunately, I didn't get to see Julie's talk as I was whisked backstage to take part in a live Blab. For those that don't know, Blab is a live web streaming platform.
I'm looking forward to seeing the recording of Julie's talk so that I can fill in the gaps and update this section after seeing it.
Speaker 8 – Pete Matthew
Today's closing keynote speaker was Pete Matthew. Pete has a very successful string of podcasts and videos on personal finance and money matters. I only caught the tail end of Pete's talk as I came back out from my Blab interview.
As with Julie, I look forward to catching the recording of his talk and I will update this blog.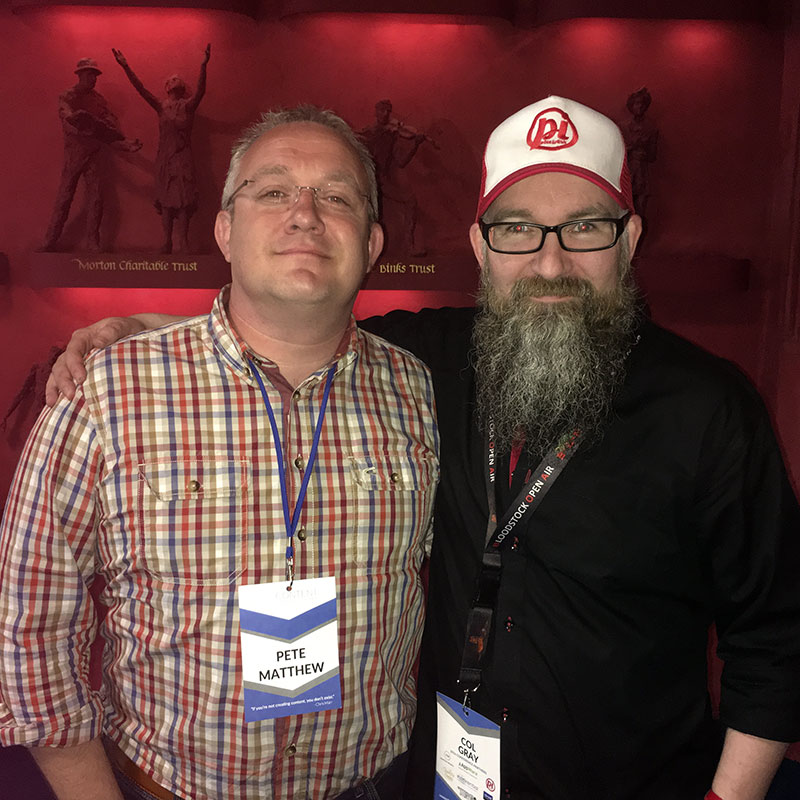 The Evening
There was an evening social event organised at Tigerlily in Edinburgh, a bar / bistro / nightclub. It was a great opportunity to again meet new people, catch up with old friends and discuss the day's talks. Most people took it easy on the old alcohol, a few decided to party a little harder than they should have….
TCMA 2016 – Day 2
What a difference it was waking up for day 2 compared to the previous morning. I'd done my talk and was pumped up from the previous day.
Headed up to the venue and waited outside with some of the delegates and speakers until they opened the doors to the venue. A lot of people were there early, eager to get started.
Speaker 1 – Ann Handley
I'll be honest and say, other than reading Ann's book 'Everybody Writes', which is fantastic, I'd never watched any videos of Ann speaking so didn't know what to expect. The day before we talked briefly and she had congratulated me on my own talk. She had also tweeted out to her followers that she was watching me speak and my Twitter follower numbers shot up by about 50 in the space of an hour!
What can I say about Ann's talk? It was absolutely captivating, what a fantastic speaker. It was both hugely informative and hilarious at the same time. Ann could easily be a stand-up comedian.
She encouraged us all to create good content, not just good enough content. She told us to be BIGGER, BRAVER & BOLDER with our content, stand out and be noticed.
Ann quickly turned into one of my absolute heroes and if you ever get the chance to see her speak, then please do so. At the very least, you need to read her books.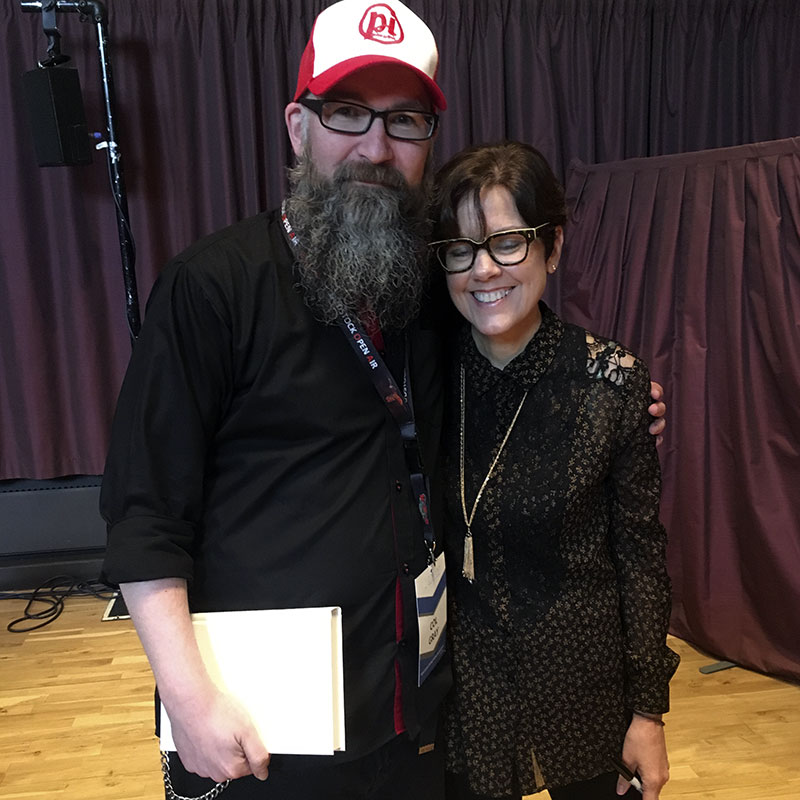 Speaker 2 – Kevin Anderson
The first of the days lightning talks was from Kev. I met Kev very briefly at TCMA2015 but have really got to know him since then through the CMA community. He is a writer and a storyteller, a bloody good one.
I was really excited for his talk as I knew what he was going to talk about would really have an impact on the audience. Kev has had some hard times with stress at work in a previous job and some mental health issues as a direct result. He talked about this in his talk and told us all how important it was to write, to get things down on paper. Not even necessarily to share, but to get it out of your head.
I can't describe to you the feeling in the room when Kev was speaking. There was laughter and there were tears. He took us on an emotional rollercoaster. His words hit home with more than a few people in that audience, you could almost hear the thoughts of people thinking "That sounds just like me!"
Kev got a standing ovation from the room. It was richly deserved.
Speaker 3 – Colin Gray
My namesake and also a friend and CMA community member Colin is a podcast expert. Colin's talk was more than about podcasting, though; it was about how to generate lots of content from one main piece of content. How to build a strategy that will save you time, yet at the same time allow you to get your message across many different mediums.
Colin told us to think like teachers when creating our content. I thought this was great advice and it makes you think not only about the topic of your piece but how you should deliver it.
The biggest thing I took from his talk though was the idea of creating series of content rather than one-off pieces, which is what I had been doing. When Colin talked about this concept of planning, there were light bulbs pinging on above people's heads throughout the venue. It was such a simple concept, but as is often the case, the simple things are often the hardest to think of as we all try to be too clever.
By thinking about things as a series, you give the viewer, reader or listener a journey to follow, something that they can join and then easily follow on through your content. With one-off content, it is much more of a stop-start as they are thrown around from one idea to the next. All very disjointed.
LUNCH
Another opportunity to chat with new faces and to discuss the talks we had heard. I also took this opportunity to get photographs with the main keynote speakers. The great thing was that they were all so happy to oblige.
We also had a big group shot taken on the stairwell on the venue, with only one person missing. Amy Schmittauer had gone walkabout!
Speaker 4 – Laura Lucas
Another talk I was really looking forward to. Laura is my business coach and if it wasn't for her, I wouldn't have heard of the Content Marketing Academy. That is something I am eternally grateful for.
Laura and I have very much the same sense of off-kilter humour and she had promised me that her slides would have me laughing and she delivered.
Laura is a complete maverick. Her saying of JFDI (just f******* do it) is her mantra and something that I really try to adopt. Too many of us play it safe and don't really achieve our full potential.
She told us that yes when we start blogging and putting content out there, there will be tumbleweed for a while, but that traction will come. We were given hints and tips on how to make the most of those early weeks and months of low volume traffic.
Speaker 5 – Bert Van Loon
I'd seen Bert speak on an early webcast with Chris and loved what he had to say on that. Bert's expertise is in strategy and planning. His talk was wall-to-wall with information on how to make sure you get the best from your content.
I couldn't possibly avail you of all the knowledge that Bert passed on to us, but what I can do is point you to his website where you can download his Content Marketing Roadmap. It was this roadmap that Bert ran us through.
I thought he did a great job of describing strategy as the plumbing of content marketing. It isn't something that your viewer sees, but without it, your taps don't work!
Speaker 6 – Alasdair McGill
The last of the lightning speakers, I've known Ali for a little while now, again through the CMA community and Ali's area of expertise crosses over quite closely with my own. Ali is in the field of Customer Experience Design, or CX for short.
Ali talked us through why CX was important to all businesses, no matter what the service or product is that you offer. He gave us advice on the things that we should be doing, and also the things that we shouldn't!
How often do you see or hear business say that they will always aim to exceed your expectations? I'm sure like me, you see it all of the time. Well, that is an invitation to fail, because how do you know what my or any other person's expectations are? If you don't know, how can you exceed them?
I love the way Ali delivers his talks. Clear, concise and incredibly knowledgeable. I'm hoping that in the not too distant future that Ali and I will be able to deliver a CX / Branding workshop that would be killer!
Speaker 7 – Mark Schaefer
The time had arrived. The big dawg, Mark Schaefer takes to the stage. I've watched a lot of videos of Mark speaking at various conferences throughout the world and I was really excited to hear him speak in person. He had been at the conference for the full two days, speaking to all the delegates, hanging out at the evening social events and generally just being an absolute legend!
Mark did a fantastic job of not only pulling together the ideas of all the talks that had gone before but in also putting out new ideas and thoughts on how to be better at content marketing. Like Ann, Mark has a fantastic sense of humour and there was some real laugh out loud moments during his 90-minute presentation.
Mark told us to give EVERYTHING to our audience. Be there for them and talk to them, engage fully. They will then trust you and become what he calls your ALPHA audience. These are people who love you and will share your content, in some cases not even reading it first, because they trust you so much.
Nurture your audience so that when you have that killer piece of content they ignite it, share it and it goes viral.
Like many of the other speakers, he told us that there is no quick fix. This all takes time and effort, but, it can mostly be done for free. All you need to put in is time. There are zero barriers in this thing other than the ones that you put in your own head.
We learned some new phrases like 'Crossing the Handley Line'. This would occur if you used more than one swear word whilst giving a presentation.
In the end, though, Mark had one big message for us with regards to our content marketing journeys and that was to BE HUMAN!
After his 90-minute talk, Mark then gave a 30 minute Q&A session which was excellent.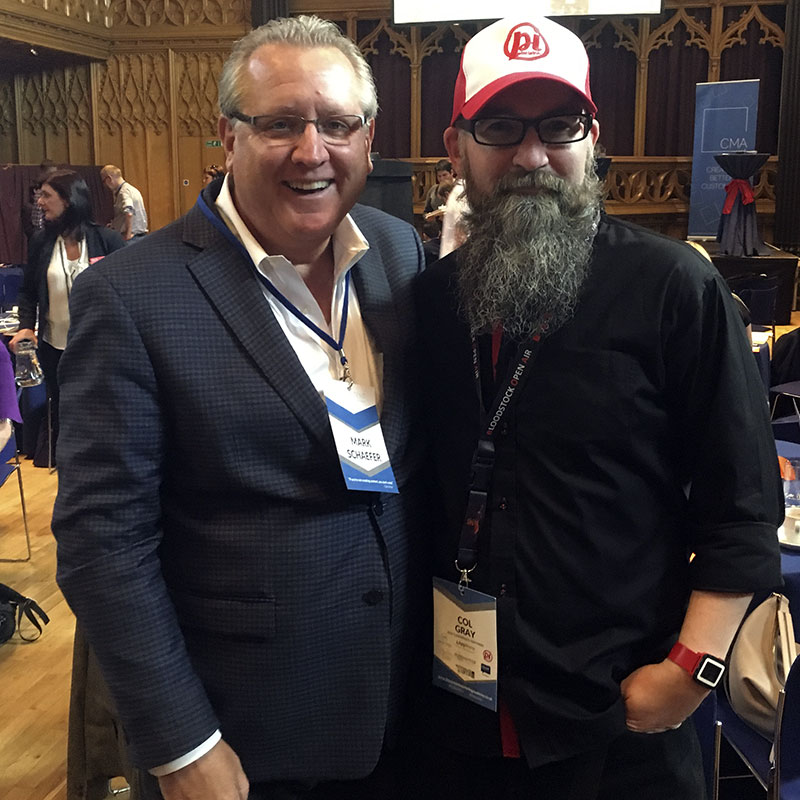 TCMA2016 CLOSING ANNOUNCEMENT
After Mark, Chris Marr took to the stage to thank everyone for being there and announced the first keynote speaker for next year – CHRIS DUCKER
There was a rather large round of applause at that. If you don't know why that applause was given then go check out Chris by Googling him and look at what he has achieved.
THE EVENING SOCIAL
The event was completely over as we all headed to the Indigo Yard bar. That included most of the speakers – Ann Handley, Mark Schaefer, Amy Schmittauer, Bert Van Loon, Richard Tubb, Kate McQuillan, Colin Gray and The lighting speakers.
It was the perfect way to end the event.
SUMMARY
There really is no other conference like TCMA, I mean that no other conference comes close to the friendliness, atmosphere, camaraderie, support and just a general feeling of awesome.
How many other conferences do you know where main keynote speakers will stay for 2 full days and mingle and make themselves available at all times to those in the room? Chris Marr has built something special by getting speakers who are willing to do these kinds of things because they love their audience and they love them back.
If you have actually made it to this point in my blog, I sincerely thank you for reading. I wanted to make this short and snappy but it was impossible. There was too much to say. Dare I say, it could actually have been a lot longer – SCARY!
If you aren't at TCMA2017 then you really are missing out on THE BEST conference ever. I really hope I see you there – REGISTER HERE
I have one last thing to say, and that is a big thank you to my GSD (Get Shit Done) accountability group. Without those wonderful ladies, I know I wouldn't have spoken at the conference and be so positive about my future. Thank you Cara, Nicola, Laura & Pam!
– Col