It was a long night. The can of Monster wasn't really doing its job of keeping me awake and my coffee had long gone cold. The house was perfectly quiet with just the tapping of my fingers on the keyboard. Please don't wake anyone up!
The Prep!
In approximately 10 hours time I would be on stage presenting a talk to an audience of 70 people. The problem was, I was still working on it at 4am in the morning!
This is nothing unusual for me, leaving things 'til the last minute. I'm an absolute master of the procrastination exercise. Every time I end up pulling an all-nighter I swear to myself "Never again!". It never works.
I'm stupidly nervous but excited at the same time about the day that is to unfold ahead. The event I'm speaking at is the Content Marketing Academy Kick Off 2017 event. An idea to gather 70 motivated people together and get 2017 off to a rip-roaring start.
I'm feeling the pressure, because as a speaker, I'm to be part of that kick-start. That big push forward into 2017. I'm to help provide that buzz and motivation to the attendees. It is terrifying and adrenaline pumping at the same time thinking about it.
The structure for my talk is complete. What's taking so long are my supporting slides. As a graphic designer, I feel the need to make sure that my slides show off some design skill. Secretly, I'm also hoping that just in case my talk is a bit shit, nicely produced slides will offset that a bit!
Holy crap, it is now 5am and I've still got to get these bloody things finished! Right, game face on and head down (but not to sleep)! After a mad hour of finishing slides and a run through of the talk, I'm 95% happy. It will need to do.
6am – Off to bed
The day has arrived
7am – Out of bed…
I get up, have a shower and gather my things for the event. Roller banner, camera, talk notes, Superman onesie, camera tripod, cue cards.
Hold on, Superman Onesie! Yep, more on that later 😉
I'm the first to arrive and meet Chris Marr (CMA Chief) and Cara Mackay (Shed Expert / Legend). I help them get the place set up as people start to arrive. As much as helping, this also keeps my mind off of the talk I have to do later in the day. ARRGH, so nervous!
Some familiar faces start arriving along with new people I haven't met before. Everyone looks excited and happy to be there which is really great to see.
After some networking the event proper starts and Chris does his welcome bit and launches into the day.
Alasdair McGill – Ashton McGill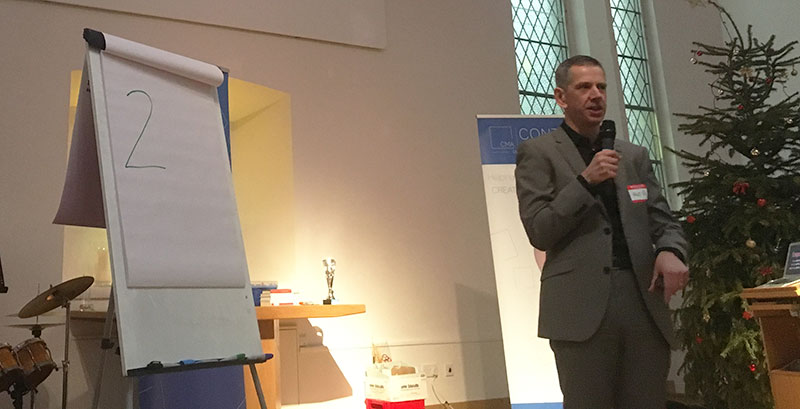 First up is Ali McGill from Ashton McGill. Ali is an expert in customer experience and helping businesses to be MUCH better at it. Ali presented some really poor examples of customer service and explained ways in which things could be improved. The biggest thing I took away from his talk was to have empathy with your customer. If you can empathise then you can understand their needs better and act / provide accordingly.
Mike Morrison – The Membership Guys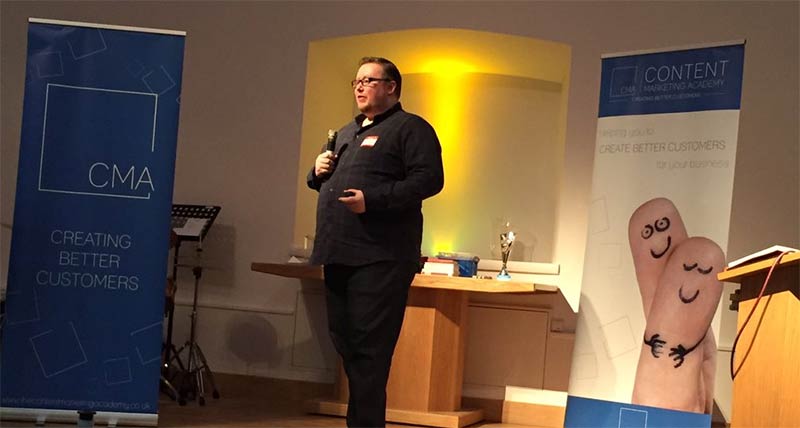 Next on the stage is Mike Morrison. I've been really looking forward to Mike's talk as he is a specialist in membership websites. I have plans in the future to run my own paid membership community and so was keen to hear Mike talk about the pros and cons of starting a membership site.
Mike is a no bullshit kinda guy and tells it as it is. Just the way I like it. I had a lot of questions before Mike's talk, but by the end, he had covered 99% of them. Seriously, if you are thinking about setting up a membership site, then you need to check out the content from Mike.
Gavin Bell – Blue Cliff Media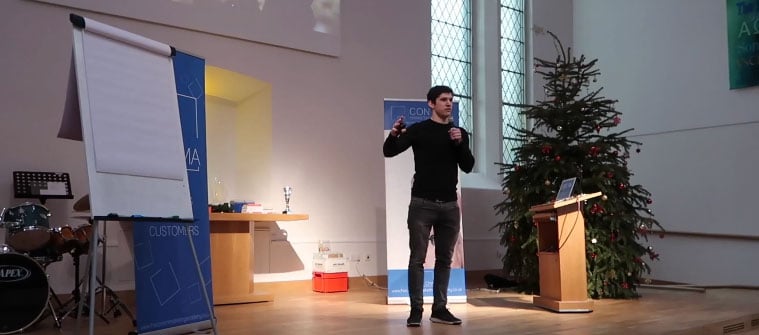 Up after Mike is Gavin Bell. Top of Gavin's expertise is Facebook advertising. He gave us all an insight into Facebook's advert manager and how we could really drill down and be really specific without advert targeting. This is something I really want to start doing in 2017 so again this talk was perfect timing for me.
I'd also like to mention Gavin from another perspective. He did a 100-day vlogging challenge in 2016, which inspired me to do the same. It has been brilliant for me in getting better at talking to camera and in structuring what I want to say on camera.
Gavin now produces a weekly vlog, which you really should check out!
Vicky Gunn – Millies Beach Huts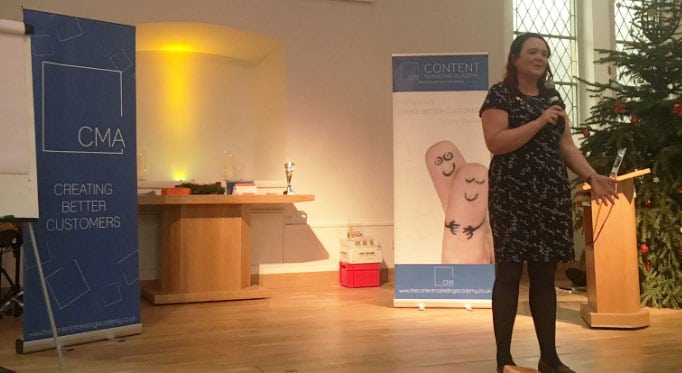 Next up is Vicky Gunn, the owner of Millie's Beach Huts and also the new venture Millie's Pet Services. When it comes to producing content for her businesses, Vicky is an absolute machine. The amount and quality of the content is really something to behold.
Vicky gave us all an insight into how she organises her content plans and structure. She had us all do an exercise in coming up with content ideas for our businesses, which was excellent. A really, really useful presentation that I have no doubt most of the room will be implementing.
Vicky was presented with an award on the day to celebrate her amazing achievements in content marketing over the past 12 months. Very well deserved it was too.
http://milliesbeachhuts.co.uk
http://milliespetservices.co.uk
Chris Marr – Content Marketing Academy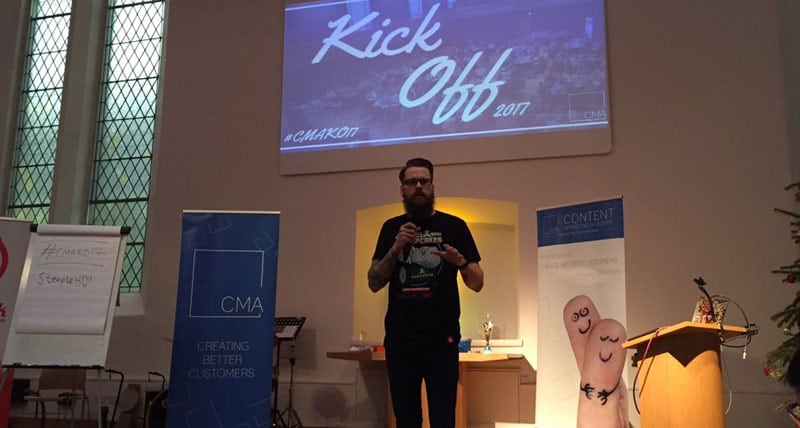 LUNCH!!
We break for a 30-minute lunch/networking break. I break out into a sweat as I'm up next to speak!
I grab Chris and let him in on my plan for my presentation. I'm going to give my talk dressed as Superman. Yep, that's where the onesie comes in folks.
Just as the lunch break is ending, I duck into the toilets to get changed and hide from all the attendees…
Col Gray (me!) – Pixels Ink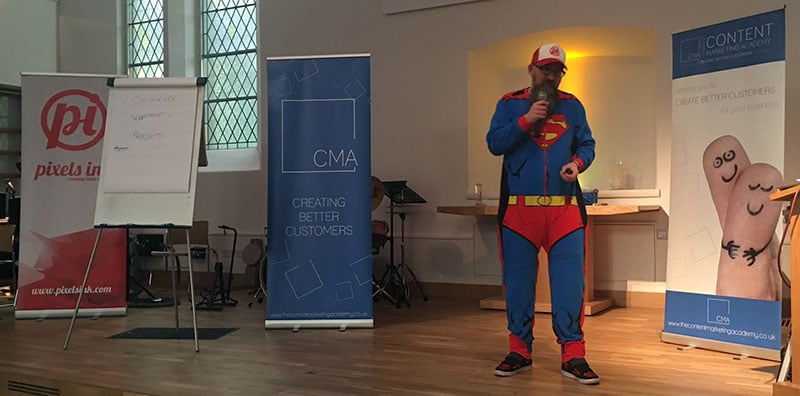 Chris goes on stage to announce me as the next speaker and follows the script we agreed where he asks the room where I am, as I'm not in my seat??
From out of view, and on a second mic, I shout in a bad Superman-esque voice "Don't worry Chris. I'll save the day!" and run into the room and up onto the stage in my outfit. To my relief, I'm met with laughter and clapping and not silent death stares.
So, I should explain about the onesie. My talk for the afternoon is called 'Superhero branding – How to brand like a superhero in 2017'. Hopefully, it now makes sense…
I'm always frustrated about how complex some brand experts make brand and branding out to be. Yes, it is an extensive subject and it can get quite complex. There are ways though to simplify it down to basic ideas that people who are not familiar with the subject can understand. My method today was to have the room think of their product and/or service as if it were a superhero.
What is their super power?
What is their purpose?
What is their personality?
What does their costume look like?
What is their story?
By thinking in this way, you can be more creative with your brand as opposed to thinking about a boring product or service. It is also a lot more fun!
The talk went down well and the feedback afterwards was awesome and I was humbled by some of it.
I had the foresight to set up my video camera to make a recording of my talk and you can watch it yourself below: http://bit.ly/pixelsyt
I also launched my new Facebook group 'ROCK YOUR BRAND' at the event for people who want to learn more about brand and branding. You should, of course, check that out. 🙂

Rod McMillan – WeDo Scotland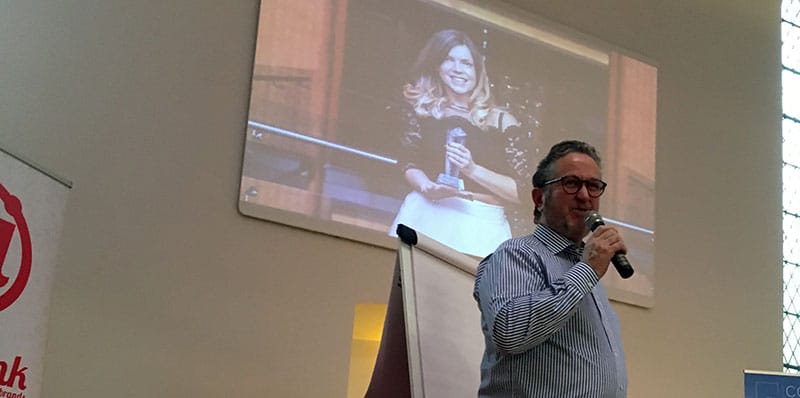 Up on stage after myself was Rod McMillan. I've only known Rod for a short time and I've learned a lot from him. Through listening to him teach others and from people he has advised passing on the advice to me.
Rod was here to talk to us about awards and why we should think about entering for them. A large part of the room was sceptical about awards ceremonies and saw them as a waste of time. I think, though, that after hearing Rod speak and give his view on them and what winning an award could actually do, it was starting to turn some people around.
It is very easy to look at an award from our own point of view. What we really need to do is look at it from the view of our customers. What would you winning an award mean to them? They would be happy for you, and they would most likely see it as well deserved. Chances are they would then tell others about their great accountant/florist/hairdresser/designer etc winning an award.
It certainly changed my mind on awards and I will be entering a few this year.
I also have to apologise to Rod as apparently, I stole his Thunder. Oops! During his talk, Rod got changed into his 'awards ceremony jacket'. This is a jacket that you have to see in person to truly understand its magnificence. Me coming on dressed up in a onesie, though, just 20 minutes before, sort of lessened the impact a bit. Sorry Rod.
Closing session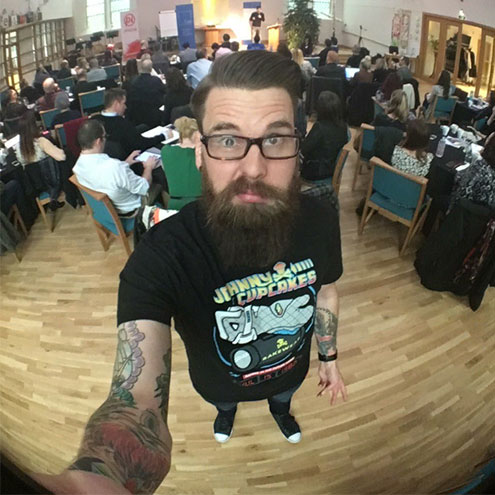 After Rod, Chris came back on to finish off the event and thank everyone and to give details about the next CMA event, which is the main conference in June.
If you want to be the best in your industry and get your brand out there then you really should be thinking of attending TCMA2017. There are world-class speakers coming to educate. You really would be a complete dafty not to attend.
Click here for details: www.tcma2017.co.uk
THE SOCIAL ELEMENT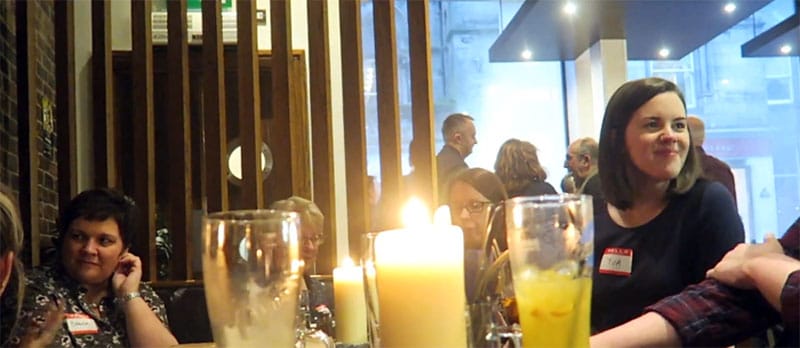 The day wasn't over, though. One of the best things about the Content Marketing Academy is the social aspect of it. After the speakers had done their thing it was time for everyone to head off to the pub for relaxed networking, food and drink.
I'd say at least 30 people made it along for this and it was brilliant fun. For many people there, they had only known people through online conversations and this was the first time to speak in person.
This is the biggest strength of the CMA, the very strong relationships between its members. It is more than jut business; these are truly strong friendships and bonds that are formed. I've really not experienced this anywhere else in all of my time being a member of various groups and organisations. Chris has really set up something very special.
I could go on and tell you about the social event as more beer/wine/gin etc flowed but I'm not going to. If you want to experience the fun that happens, I encourage you to experience it in person. 🙂
In Summary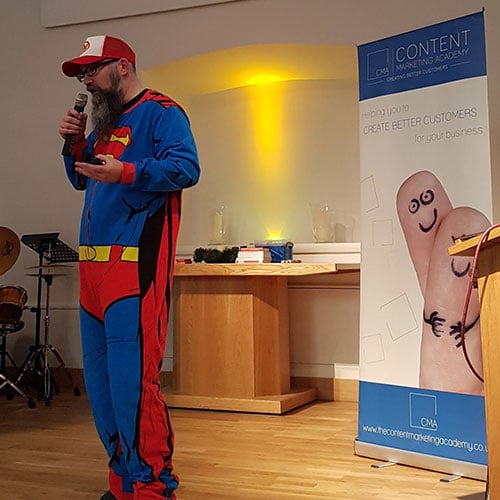 I'd like to thank Chris for giving me the opportunity to speak at the event. It caused me a lot of stress in preparation and a few sleepless nights but it was totally worth it.
I got to meet up with people in person that I have known and admired for some time, and I got to meet new people of whom I'm sure I will feel the same way about over the coming months.
TCMA rocks! \m/
Stay Creative!
Col