They say time flies when you are having fun. I find it incredible that it was only 9 months ago that I attended The Content Marketing Academy Conference 2015 (TCMA 2015). Yet, here I am, only just back today from TCMA 2016, where I was one of the speakers and had the opportunity to meet and talk with some of my idols in the content marketing world – Ann Handley, Mark Schaefer & Amy Schmittauer.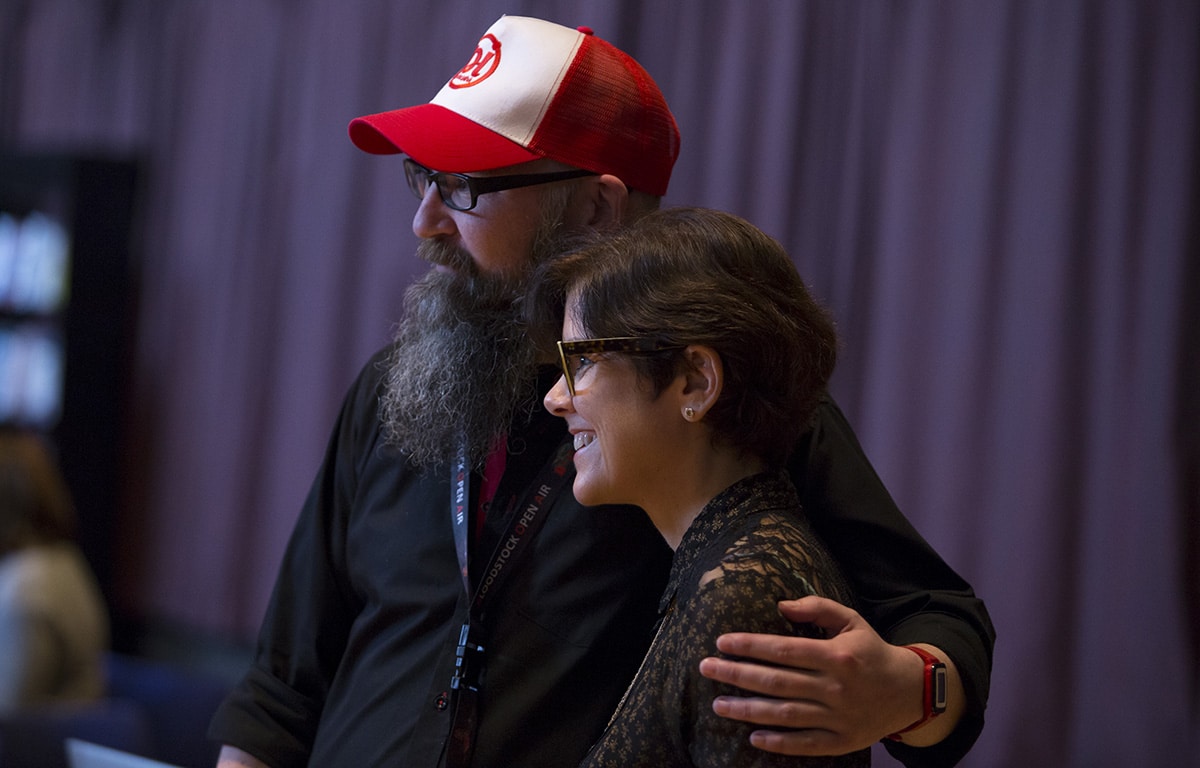 Meeting Ann Handley – Star Struck 🙂
The time has certainly flown by between last years conference and this years, and the changes in me and my business are massive, but was that journey fun? Well……….. yes and no.
Yes, it has been fun as I have made many new friends through the TCMA community. I have also implemented many changes to my business through the things I learned at TCMA2015, life-changing things. I've grown as a person and I've set myself new goals and challenges and achieved many of them, one of them is a biggee that I will talk about later.
However, the time between the two events was also very hard, and most certainly not fun. The changes I had to make to my business, to the way I worked, dealt with customers, the creation of new content, putting in new systems and all the while keeping on top of a busy workload, was very stressful.
In this blog, I want to talk about what I've noticed about myself and the changes that have happened over the past 9 months, and also what others have said to me about the changes that they see in me. I want you to see how much of a difference surrounding yourself with great people can make to your life.
Oh, You've Changed!
I had so many people say to me over the course of this years TCMA conference, "Hey Col, you've changed" or "What a difference Col" and other phrases along those lines. Now, sometimes those things can mean a change for the worse, but thankfully, on this occasion, it was all praise. Cue massive ego boost!
There was one obvious change for most people that hadn't seen me since the previous TCMA event. In the 9 months between them, I'd lost around 40lbs in weight, so I was significantly less Col than the one they had met before.
The second thing was that nearly everyone said that I was so much more confident. They were right, I am, and that has been a big journey. Along with implementing content marketing strategies throughout my business which has shown financial and audience gains, I was also working on personal development strategies too. I'd been surrounding myself with the best people and learning from them, and I'd also been working with a coach to build my confidence. The coaching was an amazing thing called THRIVE, go check them out – http://www.thriveinscotland.co.uk
To have people acknowledge the changes that I had been working hard on was a terrific boost to my already growing confidence. I wasn't looking for validation, but sometimes that little bit extra can mean a whole lot.
So What's The Plan?
After TCMA2015 my head was fit to burst with all the new things I would have to do in order to join the content marketing world. Not only to start creating great content but to also get my business into a place where I could put aside the time for that content creation.
I admit now that I have only just started that process and have a lot more to do. I now have a Virtual Assistant service handling all of my incoming calls which is working out great. I now also need to outsource a lot of other things too that I really shouldn't be doing myself, like my accounts, writing copy and generally anything that isn't graphic & brand design related.
The 9-month journey between then and now, the confidence building, the implementation of true content marketing into my business and the support of the CMA community has finally given me the vision and belief in myself to make the hard changes and not fear them. As the fantastic Ann Handley said to myself and the room during her keynote – BE BIGGER, BRAVER, BOLDER. Ann was talking content, but I also know that I can do it with the internal running of my business too. I don't intend to get bigger in my physical form, the new svelte me is here to stay 🙂
Thanks for taking the time to read to the end, I love you for it.
If you really don't want to get back to work or that task you really must do, why not read my review and thoughts on TCMA2016. It was bloody awesome!
Can't beat a good book signing! – Everybody Writes by Ann Handley